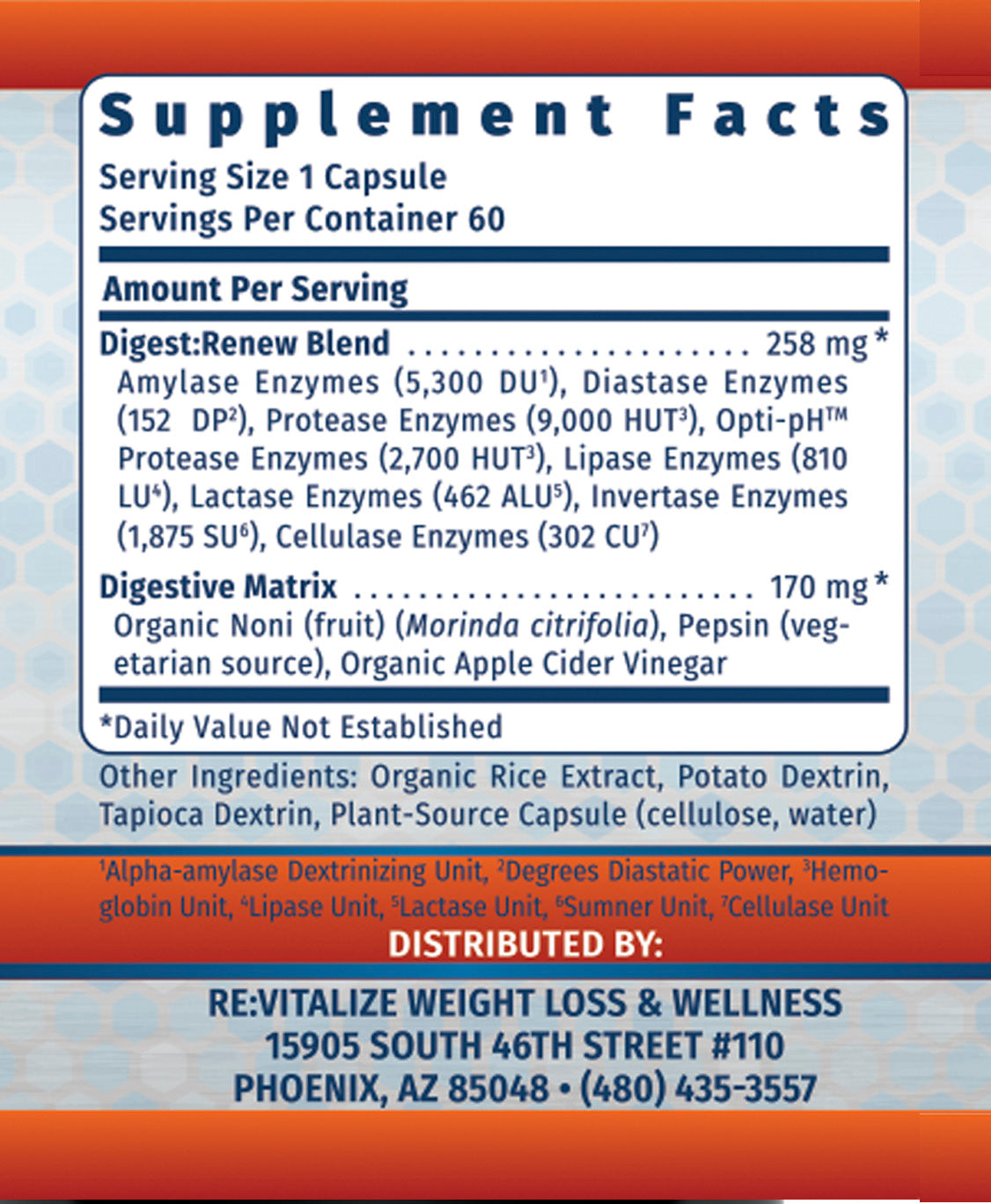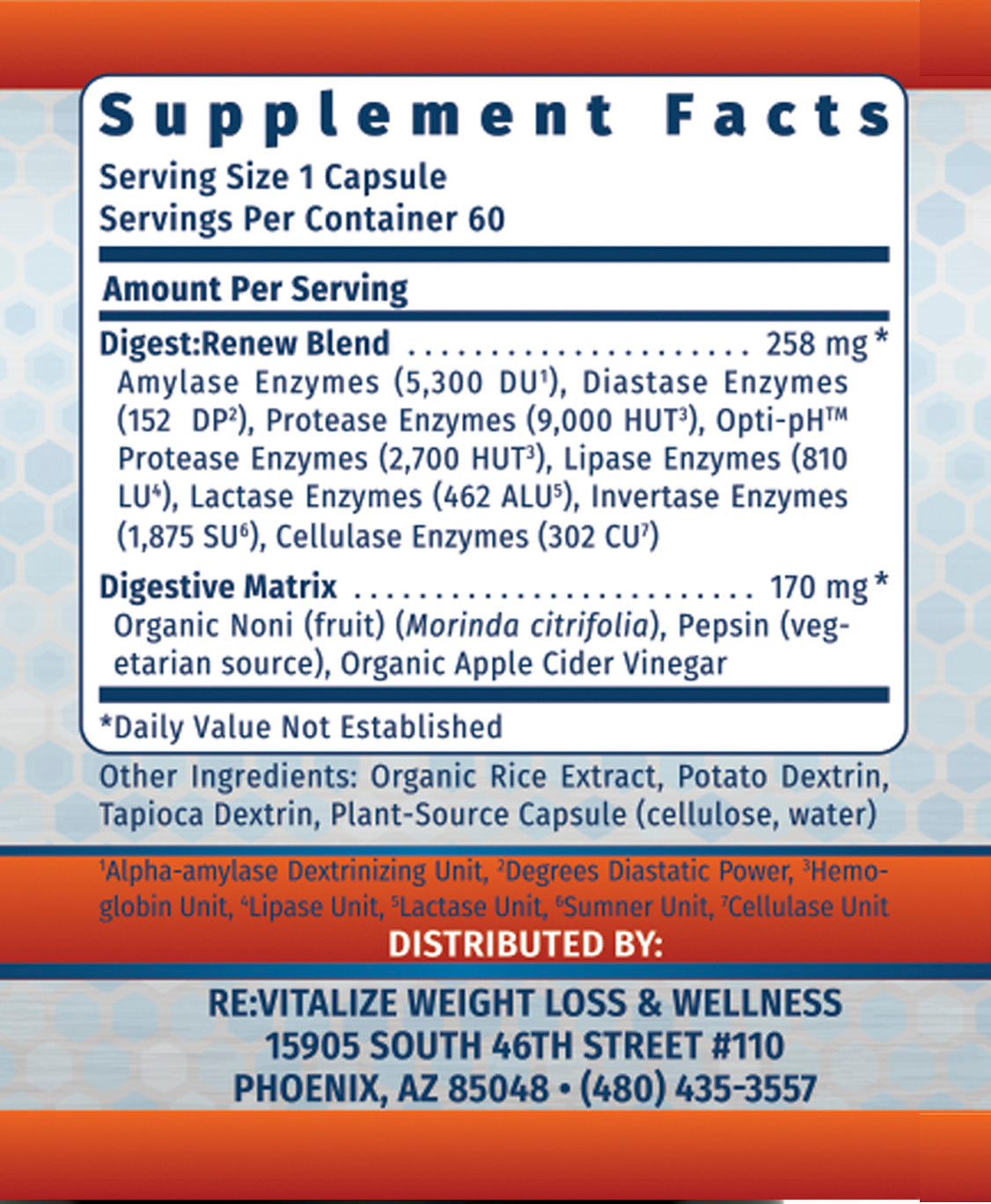 Regular price
Sale price
$33.87 USD
Unit price
per
Sale
Sold out
Digest Enzyme Support
Best for: Lower Digestive Issues and Support in

 Digesting Fats, Carbohydrates, Proteins and Dairy†
Digest:Renew is one of our most popular essentials for its help with alleviating lower digestive issues (like gas, bloating, and upset stomaches).†
Digest:Renew contains a variety of enzymes to aid in breaking down a variety of both micro and macro nutrients for the small intestine to absorb and also helps alleviate a variety of GI issues common as we age.†
With age we begin losing our natural digestive enzymes, which our body produces to help us get the most nutrients out of our foods. Without the digestive enzymes you need, processing foods to get the nutrients they provide becomes increasingly difficult. 
The result is often upset stomach, gas and bloating, irritable bowels and other intestinal distress, as well as the under-absorption of the nutrients from our food.
The Digest:Renew formula delivers a broad spectrum profile of premium sourced vegetarian enzymes to support your body's digestion of proteins, carbohydrates, fats, fiber and dairy.
Digestive Enzymes Featured in Digest:Renew: 
Lipase enzymes to promote the breakdown of fats.†
Amylase enzymes promote polysaccharide breakdown of starch and glycogen.†
Invertase and lactase enzymes support digestion of carbohydrate disaccharides, including dairy.†
Cellulase enzymes help break down plant cell wall components, promoting nutrient bioavailability of foods that contain fiber.†
Digest:Renew offers two types of protease enzymes that facilitate the normal breakdown of proteins.†
HOW TO USE:†
Take 1 Capsule, 3 Times Daily. Take 1 Capsule of Digest:Renew, 3 Times Daily With Food.
Take With Food & Water.
60 Plant Source Capsules
No Added Stearates
Plant-Source Capsules
Pure Vegan
Violite® Bottle
View full details
Our Supplement Promise
100% Non-Toxic

Our products chromotographically tested to identify any foreign substances or substrates.†

Clinically Tested

We clinically test our products in our cGMP and USD-certified facilities to ensure purity and optimal efficacy.†

Excipient Free

All of our products are free from harmful excipients and fillers like magnesium stearate.†
CUSTOMERS ALSO BOUGHT
Regular price

Sale price

$65.79 USD

Unit price

per

Regular price

From $50.79 USD

Regular price

Sale price

From $50.79 USD

Unit price

per

Regular price

Sale price

$33.87 USD

Unit price

per

Regular price

Sale price

$28.79 USD

Unit price

per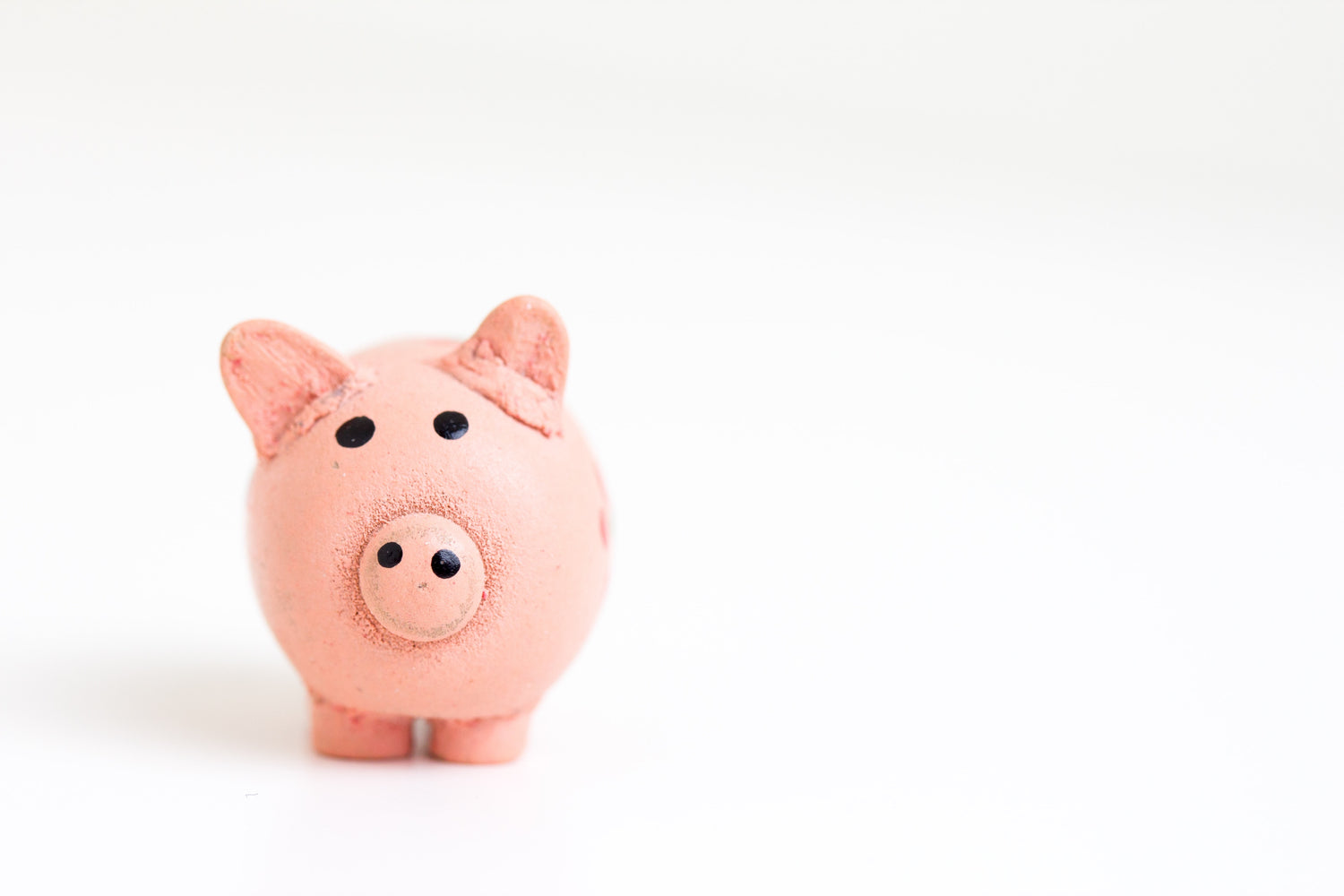 Subscribe & Save 15%
Subscribe for 30, 60, or 90 day automatic delivery of your favorite products and get an automatic 15% on your subscription!